Hey guys!
We're here with the much-awaited Mi Band 3 review! If you are at all into tech, you've probably been waiting for or at least heard of, Xiaomi's new fitness tracker, the Mi Band 3. The Chinese version was launched about two months ago. The global version, however, isn't out yet and is speculated to be out by the end of August. Xiaomi also has an NFC variant pegged for a September release. How did we get our hands on the device so quickly, you ask? Well, the good folks over at GearBest sent us a review unit. So yeah, a shout-out to them.
Xiaomi Mi Band 3 Review
We have had our fair share of fitness trackers over the years – primarily the Mi Band 1, Mi Band 2 and the Honor Band 3. And as we mentioned in our Honor Band 3 Review, we have been waiting for a long time to see the Mi Band 3. And after a gap of almost two years, Xiaomi is back at it again with the fitness bands.
Though they have launched Mi Band HRX variant in India (which weren't great fans of) and concentrated more on their sub-brand Huami's Amazfit smartwatches, the Mi band series has been their best-selling fitness tracker series. Currently, the Xiaomi Mi Band 3 is available for sale only in China and is priced at 169 Yuan (~ 26$/ Rs.1,800) for the non-NFC version and 199 Yuan (~30$/ Rs. 2,000) for the NFC-Version. Let's begin with the unboxing and proceed with the review.
Xiaomi Mi Band 3 Unboxing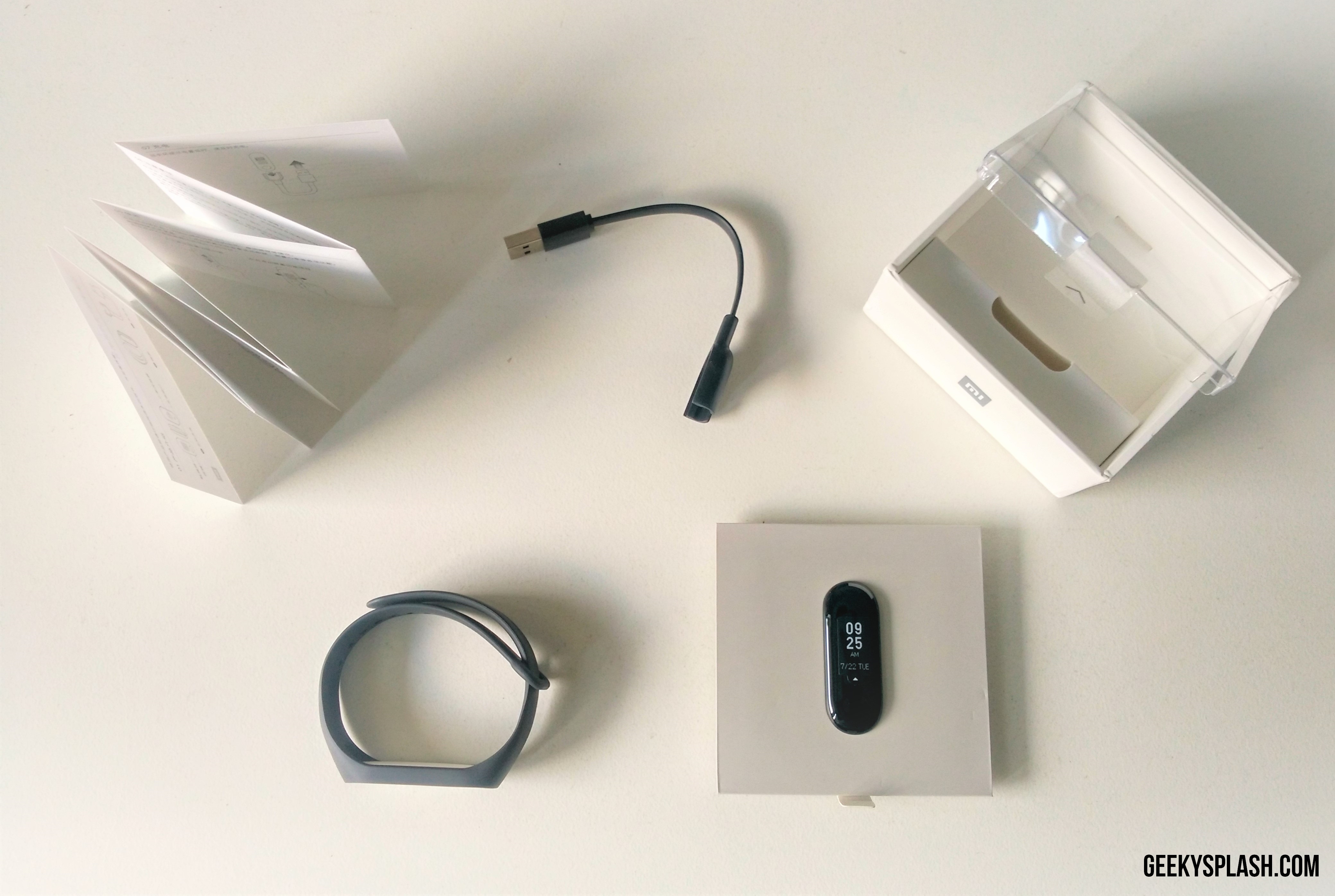 (From left to right) The manual (in Chinese!), strap for the tracker, USB Adapter for charging, the tracker unit, and the sweet box all of them came in – Pretty no-nonsense.
Tracker Unit
A Black Strap
Manuals (in Chinese)
USB Adapter for charging
We got the black strap and the non-NFC variant, FYI.
Xiaomi Mi Band 3 Specifications
Dimensions: 17.9 x 46.9 x 12mm
Band Material: Silicone
Charging: USB
Battery Capacity: 110 mAh lithium ion
Battery life: 20 days (claimed to be)
Water-resistance: 50 meters (5 ATM)
Weight: 20 grams
Sensors: Accelerometer, optical heart rate sensor
Display: OLED
Screen size: 0.78-inch
Colors variants: Graphite Black, Hot Orange, and Deep Blue
So, we've been using the Mi Band 3 for about 3-4 days and here is a proper-breakdown of what we think about it – and if it worth an upgrade from the Mi Band 2.
Looks & Display:
Right off the bat, the Mi band 3 looks G O R G E O U S! We've used the Mi Band 2 for quite a while back in the day, and in comparison, the Mi Band 3 unit itself is much bigger to look at. The strap has pretty much remained the same – a smooth silicone material with a matte finish. It does offer a tighter grip on the tracker, though. We received the black band – and all in all, with the shiny black tracker unit, and a matte-black band, the Mi band 3 sports a very stealth look and is pretty neat.
The screen has received quite the upgrade too. The Mi Band 3 now sports a larger 0.78-inch touch-capacitive OLED display. The menu is quite intuitive and has one main vertical-scroll section and a horizontal-scroll for each section. Feels a bit weird in the beginning, but you get used to it.
A major drawback of the Mi Band 2, however, has not been fixed here – outdoor visibility. If anything, the shiny screen makes it a bit worse. And to make matters worse, the actual display seems to be deep inside the screen. The display is fine indoors, and it probably isn't as bad outdoors as we make it out to be – but is still something that you should keep in mind.
Features:
Heart rate monitor
Pedometer
Sleep monitoring
Weather
Alarm
Notification alert
Stop-watch
Set-up and Software:
The set-up is straight-forward. You just need to download the Mi Fit app which prompts you to turn on the Bluetooth, and it detects and pairs itself. The initial discovery of the device and pairing took us a couple of minutes – but that is one-off and is usually fast once it is paired and just needs to sync. It can also be connected to a lot of phones and even Google Fit – but more on that later.
The tracker's software, as we've mentioned in the display section, is minimal. The navigation displays all the Mi Band 3 has to offer in a simple manner. It could be better but gets the job done.
Pros:
The price! You practically get a smartwatch with the Mi Band 3 – probably the world's cheapest.
Sans the outdoor display, it does a good job in all other departments.
The battery life, in particular, is awesome!
Looks amazing, and is a comfy disposition on the hand.
The Mi Band 3 is feature packed! Right from a heart-rate sensor to a stop-watch, it has got it all.
Cons:
We've mentioned it a lot of times already, but yeah, the outdoor display.
The Mi Fit app is pretty limited and is due an overhaul. There are other third-party apps to the rescue, though.
Hard to get your hands on. The global release date hasn't been officially announced, and the only way to buy it right now is to get it shipped from China.
The on-screen navigation, simple as it is, isn't the most optimal. You often end up scrolling horizontally when you're trying to scroll vertical and vice versa.
No GPS or Wi-Fi connectivity. Still operates on Bluetooth.
Like in its predecessor, the heart-monitor is sub-par at best. It constantly fails to detect the heart rate.
We're nitpicking here, but the screen is very glassy and is a major fingerprint magnet.
The Bottom Line:
All in all, a very positive impression. Given the price tag, the Mi Band 3 is a lucrative deal. And if you are looking to upgrade from the Mi Band 2, we suggest you go for it. Though it wouldn't be the biggest of upgrades – chances are that your Mi Band 2 is a couple of years old and that you could use a new fitness band. From what we've used of the Mi Band 3, we can tell that Xiaomi has stuck to its guns – hasn't tried to do too much. They've kept it simple and just improved on the Mi Band 2 by providing an interactive screen.
They did mention, however, that they plan on adding more features – especially to the notifications which are only open to a few select apps at the moment. Xiaomi has all the right hardware for a very low price with the Mi Band 3, and we could expect a couple of major updates down the line which will only sweeten the pot.
And yes, it does have its fair share of shortcomings with the outdoor display, the heart-rate monitor, and the on-screen navigation – but given the price, you should be willing to overlook the minor lapses and just acknowledge the Mi Band for all it's worth – it's weight in gold!
That's not all ! We have a coupon, exclusively for our readers. Use the coupon code below on Gearbest and get an exciting discount.
[adace_coupons ids="2768″]
Xiaomi Mi Band 3 Review : It's weight in gold!
Though the Mi Band 3 doesn't add more features from its predecessor, it is still a great value for money offering. One of the best picks for people who are looking to buy smart bands or fitness bands in an economy.
Great Display
Battery Life
Features
Pricing!
Screen barely visible in tough sunlight
No GPS
Average performance of the heart-rate sensor